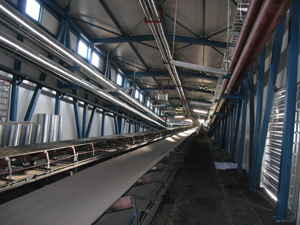 Bottom Ash (Bed Ash) Handling Systems
For big coal fired units there are basically two types of boilers: pulverized coal fired (PC) boilers and fluidized bed type boilers.
Bottom ash (slag) handling for PC units
In most of the PC units the bottom ash is removed by under-water submerged scraper conveyor (SCC) and crushed below 100 mm. (SCC & crusher is normally part of the boiler supplier). The crushed and partly dewatered bottom ash is transported:
Directly to disposal area by belt conveyors along with humidified fly ash
Into bottom ash silo to intermediate storage by belt conveyors or scraper conveyors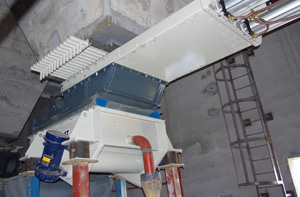 Bottom ash from bottom ash silo can be fed into trucks or belt conveyors for further transport to disposal area or can be fed into mixing technology of high concentration ash disposal system where bottom ash, fly ash, water (in some cases gypsum slurry) is properly mixed to achieve 1-1 solid-water ratio and pumped to final disposal area.
We are offering proven discharge devices including large size closing gate, rod type closing gate, vibration feeder with flow control and integrated dewatering system.
Bottom ash handling for fluid bed boiler application
Bed ash from fluid bed boilers are removed in dry form and cooled down below 150-200 °C for conveying and storage.
We are offering our various bed ash handling systems such as:
Mechanical ash conveying system including: cooling screws, scraper conveyors, vibrating screens, crushers
Bed ash pneumatic conveying systems with bottom discharge pressure vessels for particle size below 4.0 mm
Silo technology for bed ash storing and discharge