Dense slurry systems
EWB can design & supply different kind of hydraulic ash handling technologies such as: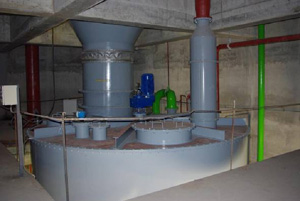 thin slurry mixing and transport with hydraulic jet pump for fly ash and bottom ash
thin slurry transport of fly ash and bottom ash with centrifugal slurry pumps, mixing ratio 1:3 – 1:10
dense slurry mixing technology for fly ash and bottom ash and connected dense slurry conveying with series of centrifugal slurry pumps, mixing ratio 0.9-1.1 kg solid / kg water
The thin slurry mixing technology was widely used for coal fired power plants in the past, but due to high water demand for the hydraulic conveying, this technology has disadvantages such as:
large pound area required
pollution of ground water
This thin slurry transport now basically used for bottom ash transport only.
There is a trend worldwide that the thin slurry transporting systems (fly ash + bottom ash) are replaced by dense slurry disposal systems. For big lignite fired plants with unit size over 300 MW large amount of ash is generated. Utilization of fly ash is preferable in many countries but the demand from the cement industry is far less than the ash generation by coal fired units, therefore ash ponds are required. For transportation of ash to disposal area there are two practical solutions: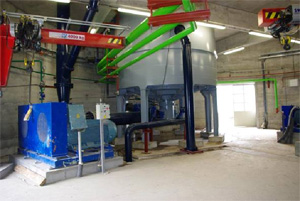 Fly ash conditioning and transport to disposal area with trucks, vagons or belt conveyors
This is very much used in many power plants, but if disposal area is over 2.0 km it is becoming uneconomical.
Another disadvantage of this transport method is that on the disposal side numerous machineries are required for spreading the ash. Maintenance cost is very high.
High concentration ash slurry disposal system
This is the only practically good solution in case of large ash quantities if disposal area is more than 3.0 km away form unit(s).
EWB mixing technology consists of premixer and connected conditioner tank.
The proper mixing is ensured by two ways:
continuous recirculation of the slurry from bottom of conditioner to the premixer
continuous mixing by mechanical stirrer inside conditioner tank
For pumping of dense slurry normally 2-3 slurry pump connected in series are required.
Main technical data:
Mixing ratio: 0.9-1.1 kg ash / kg water
Capacity range: 100-300 t/h (dry ash)
Conveying distance: 3-10 km